From the survivalist small game hunter to the sport thrower, this one has a pleasant feeling weight, a snappy release, and is beautifully flat flying. Absolutely a lot of fun to throw. Whether you're interested in easy long range flights at the park or just a great boomerang at a great price. Because of its lighter weight and a soft tuning option available for more casual, softer throwers, this throwstick can be easy to use and fun to throw for the whole family.
Click Below For More Info
Specifications
---
Hand crafted from tough black polycarbonate
Approx. 632mm/24.9" x 332g/11.7oz
Ideal for the sport thrower, the small game hunter, or anyone who just wants to have fun!
Potential flock hunting range out to approx. 80 meters for skilled throwers
Total range is approx. 85-105 meters / 93-114 yards (individual results may vary)
Mid sized grip for a snappy, fast release
Excellent straight flights
Our most versatile fluted stick for a range of throwers
Now Available Right Or Left Handed! (Specify in text box)
Soft tuning available for weaker throwers (Specify in text box). Hard tuning is the standard option on this model and preferable for most throwers.
---
Description
---
We designed "The Karli" model as a fun, light weight distance achiever which can get a thrower into a fluted stick at an attractive price point. Opened elbow fluted sticks like this seem to ride a groove when they fly. Based in the designs of some of the shorter and lighter weight central desert throwsticks that were used historically for small game, we have developed something which is optimized for long range sport oriented throwers and feels pleasant to throw at high speeds. There is one proviso: It prefers a fast, snappy release and good spin to stabilize the ultra flat, long range flights. ​
---
Reviews
---
"As someone who has extensive knowledge in primitive technologies, and cultural anthropology, I highly recommend Ben's throw sticks! I have made many in the past and usually get about 60 - 70 yards. When throwing the Karli model, I was absolutely blown away by its performance. This stick is scary good and reaches distances over 100 yards! Incredible! We here at Primitive Lifeways highly endorse and recommend Ben's throwing sticks."

- Jeff Martin Primitive Lifeways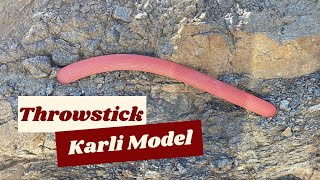 _______________________________________________________ "I received the Karli today and it looks awesome! Due to the crappy weather I only got to try it out a little bit. On my second throw I hit 103 yards and straight! This Karli exceeded my expectations and then some. You will have a future customer in me. I can't wait to explore it more when the weather is better. Thanks again. I love it! So cool." Jeffrey F. (Nebraska, United States) ________________________________________________________ I 'm enthusiastic about her Karli, but the Stinger is great too. They made great throwsticks. I'm a huge fan. As for sure, I've already ordered two more throwsticks. Thanks again for your great craftsmanship. By the way, if you can make new left-handed models, let me know. Michael K. (Germany)) ____________________________________________________________ These things are awesome!! They never seem to want to stop going, and are very durable as well. My only complaint is that when I bought one with the bright orange paint job the paint seemed to rub off pretty easily. It would even rub off on my hand when I used it. But otherwise my expectations were exceeded beyond what I thought was possible. Keep up the good work! Michael L. (Florida, United States) (Additional note from Throwsticks: We have discontinued the orange paint finish because we don't like it either. Our current finishes are far superior and age more naturally and gracefully in the field.) ____________________________________________________________ I bought a couple matched Karlis from you a couple years back. I want you to know I have thrown them hundreds of times over all kinds of surfaces and they still look and operate as well as they did when I bought them. I don't baby them. I keep them in my truck so they are in extreme temps most of the time and they do not warp or crack. You have developed a superior product and are to be highly commended. If you are a potential buyer make sure you heed the warnings. 100 yards plus is a thrilling and long way to throw an object. In the 6 seconds it takes to hit the target the target environment can change. I've had to hold my breath a few times when I underestimated the range and ability of this fabulous tool. Thank You! Tony Plott (United States) _________________________________________________________________ Awesome, thanks for the great product we are very pleased. We will order more sticks soon. Ron K. (Texas, United States) ________________________________________________________________
---
Soft Tuning Information
---
Historically, hunting boomerangs could be used by very old men as well as young. The Soft Tuned Karli Model is more accessible to smaller, weaker, semi-disabled or older individuals who don't have the gusto in their arms that they used to. The soft tune option shortens the overall range of the throwstick, while at the same time reducing the initial velocity needed to achieve a straight flight path. We soft tune these throwsticks, usually at 65 meters, making them the easiest and most accessible throwsticks in our lineup, ideal for smaller, younger, older, disabled, or more casual throwers who are working in smaller areas. Maximum range is much less than on the hard tuned throwsticks, and when thrown too hard, a soft tuned throwstick will climb above target rather than flying straight into it. See the video below. Only a good toss is needed for straight flights when soft tuned. Ideal for smaller areas or casual target practice competitions. Soft tuned karli model throwsticks are not stocked. They are made to order and we prefer to correspond with the customer before production so we can be sure to meet your unique needs as best as we can. We have made soft tuned sticks for people with shoulder injuries and for school programs. Are you in a wheel chair but still have your arms? Our bet is we can get you out there throwing! Just inquire with us and we'll see what we can do.
---
---