The Wedge War Club







IN COLLABORATION WITH

MATT

GRAHAM
Click Below For More Info
Specifications
---
Hand crafted from tough, black polycarbonate

Based on ancient, highly refined flying war club designs known as "Lil Lil"
Designed in collaboration with Matt Graham
Approx. 583mm/23" x 350g/12.4oz
Potential hunting flight range is approx. 50 meters for skilled throwers.
Total flight range is approx. 65-85 meters / 76-98 yards (individual results may vary)
Low lift airfoil Ideal for aggressive/strong throwers.
Weighted head design tends to improve "feel" and thrower accuracy.
Tapered head and ergonomic shape delivers strikes from multiple angles
Ancient hand to hand fighting weapon design
Mid sized tapered and curved grip for fast, snappy release
Pointed tips for extra penetration into targets and for use as a digging tool
Beautiful incised upper surfaces in two patterns available.
Turbulated surface & stout design make for excellent energy retention & impact
Individualized Initial carving available on premium incised pattern.
Beautiful finish feels and looks fantastic, aging gracefully with use.
Available right and left handed!!
---
Description
---
Designed in collaboration with Matt Graham and based in "Lil Lil" war club patterns refined over thousands of years in the East of Australia, The Wedge War Club is a durable and powerful multi-tool for the modern warrior, forager and hunter. It's fast, efficient, stout and delivers a heavy blow, offering amazing multi-tool versatility in a single package. Useful against zombies as well as conies! For the tribal styled martial artist, the tough polycarbonate construction stands up to extreme use, with the swelled angular head providing tactical impact points at both inward and outward angles, as well as along the spine. These angles are useful in trapping, disarms, and extra heavy impacts on the outer edge, which reduces jarring into the hand when striking hard objects. The chisel pointed ends are useful for fast straight punches and stabs for inside fighting, and the flared head provides a safe area to hold with the off hand durying parries against other impact or blade weapons. The swelled shape allows for easy and secure carry in a belt, belt loop, or with our throwstick holster, for the fastest and most secure carry and deployment. This ancient weapon is uniquely versatile and powerful. The paddle head, and pointed ends make this design an effective foraging and digging tool, as well as a potential aid in navigating hilly country or clearing a trail through brittle wood. This is not a professional climbing tool and should not be relied upon for safety. For hunting/throwing, this design generally stays within an 85 meter radius or less, and so it is ideal in more enclosed environments and mid sized game. Hunting ranges to 50 meters are possible and the Wedge generally flies very flat and efficient to this range if thrown at full force with good alignment. This is a low lift design with a nose down tendency (nose heavy) and thus requires a hard throw to fly the distance. It rewards aggressive throwers, excels at penetrating into brush more than other models, and it delivers a very heavy blow to any target. Beyond 50 meters it generally starts to drop below target, since it is not a long ranged hunter. For long ranged hunting we recommend several of our other hunting sticks such as the Karli, which will carry flat flights to double the range of the Wedge or more, and which is more tolerant of lower throwing velocities. If you're in a tighter environment and like throwing hard, this model is excellent. This is a beautiful, historically inspired war club that is not only fully functional for use in the field, but looks exotic and amazing when mounted on the wall. The buffed finish on dark faux hardwood feels and looks like a fine piece of genuine old world craftsmanship and ages gracefully. If you are giving this as a gift or would just like to personalize it for yourself, we'd be very pleased to carve your initials into the upper surface of the premium model. This is the only model we are offering this service on and it looks spectacular when finished! ​
---
About Matt Graham
---
Matt Graham is an internationally renowned survival adventurer and primitive living skills teacher, as well as the co-host of Dual Survival on the Discovery Channel. Matt is known as the top primitive hunter in the world, specializing in the atlatl and boomerang. He has collaborated with Throwsticks.com on several projects and his guidance and experience, as well as deep sense of aesthetics and practical ergonomics have resulted in amazing products like the one featured here.
---
Reviews
---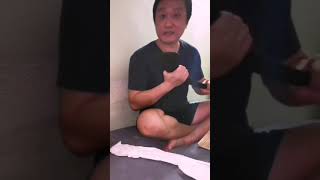 Video review by D. Tan (Malasia) ________________________________________________________ Hello! Should have reviewed this sooner, but I've been having too much fun with this. I must preface this with saying I am beyond a novice thrower. I've never had a properly made thrower of any type like this. The wedge war club is awesome. It is very intuitive, and I thought it was going to take a ton of practice to even hit my targets. While I'm not going to be confidently hitting rabbits on the run anytime soon, a human body size target is easy to hit repeatedly 50ft away or more. I was shocked the first time I threw it. I'm not particularly strong, but my first throw cleared my large yard and went sailing into the neighbors'. Very well constructed, it's light but strong. I highly recommend it to anyone who is into throwing or looking for a fun new tool. Thanks again! Jack O. (New York, United States) ________________________________________________________ Just received my Wedge War Club today and . . . WOW. It's a thing of beauty. The faux dark wood finish is extremely convincing, looks like it was carved out of exotic hard wood.The carvings on it look amazing, even better than in the pictures. I almost don't want to throw it, for fear of damaging it. I think I've got a spot in a bookshelf that would be perfect for displaying it. Actually, I can't wait to get a few throws in. Something tells me this thing will slam into targets like a freight train. By far my favorite throwsticks product yet. Looking forward to seeing what you come up with next. Justin C. (Kentucky, United States) _______________________________________________________________ I am 100% satisfied with my top quality hand crafted hunting war club. Thank you, Jesse R. (California, United States) ________________________________________________________________ Hope all is well with yourself and your family. I just wanted to let you know that for quite some time now I've kept a kimberly stinger in a place of honor in my bug out bag. I try to keep it light and tight, but admittedly I run heavy with tools. The stinger has been kept company with tools of like quality, such as a Williams Collins Survival Knife (complete with sheath/survival rig from Stitched Gear Outfitters) and my beloved RMJ Eagle Talon tomahawk. Each of these excellent tools is multi purpose and utterly reliable. Although assembled in earnest, with serious intent, my bug out bag serves primarily as my toy box for days/nights in the woods. Today I've removed the kimberly stinger from my toy box . . . and replaced it with the wedge war club. I love the wedge, it's a legit multipurpose tool. It really does work as a shovel, and it is wicked as a weapon used along the lines of escima/FMA. While not exactly forgiving when thrown, it packs one helluva of a punch when it connects. It's a practical survival-hunting weapon for moderate range (I'm thinking turkeys). The wedge has earned the spot that the stinger once held. It's sad to see the stinger replaced, we had some good times, but my bug out bag is better off with the wedge. I'm sure that its got lots of good times ahead. I hope times never get bad enough that it's really needed. Justin C. (Kentucky, United States) ________________________________________________________________ This is an absolute masterpiece of design and function you guys did fantastic! Will M. (Arkansas, United States) _______________________________________________________________ love my lefty wedge! It's a functional work of art.
Thanks so much.

-John (United States) ________________________________________________________________ Love all the sticks. Your products are awesome. --
White Pine Wilderness Academy (Indiana, United States)
Throwsticks Note: (White Pine uses our sticks in their classes so if you're in the Indiana region then definitely check them out!)
_____________________________________________________
This stick feels absolutely deadly in the hand! Keeping the right frame of mind is a must for me, for in a combat situation you could hurt someone very easily. And for targets it has a forceful spin that would knock down a good size man that was in retreat mode. I love my custom initials that make it know ones but mine. Cudos to the folks a throw sticks!
Troy W. (Arkansas, United States)
________________________________________________________
---
---