ANNOUNCING
THE SIDEWINDER SCOUT
​
​
​
IN COLLABORATION WITH

MATT

GRAHAM
Matt Graham

is an internationally renowned survival adventurer and primitive living skills teacher, as well as the co-host of Dual Survival on the Discovery Channel.
Click Below For More Info
Overview
---
Inspired by an ancient pattern, named after a primal hunter which glides over the desert sands at tremendous speeds, and designed by legendary bush crafter Matt Graham, the Sidewinder Scout is a compact, versatile and efficient small game hunting tool. It features an ergonomic balance which enhances short ranged accuracy and stability, as well as an airfoil which is designed for stealth and 360 degree lethality. The Scout is perfect for applications where smaller individual targets are being engaged, excess range is not desired, and silence is important. Our easiest to learn and most accessible throwstick, the Sidewinder Scout is unique and beautiful to watch in flight or take on your next trek into the great outdoors.
---
Specifications
---
Hand crafted from solid black polycarbonate

Approx. 580mm/22.9" x 312g/11oz

Designed by Matt Graham for shorter ranged hunting

Potential hunting range out to approx. 40-55 meters for skilled throwers

Total range approx. 70-90 meters / 76-98 yards (individual results may vary)

S shaped design provides enhanced durability for rough and rocky environments.

Ultra stable platform

Silent airfoil designed for stealthy flights

Design aids in skidding "earth guided" shots across the desert sands.

Accessible ergonomic grip for easy use by all throwers

Balanced to be used with an extended grip for more instinctive throwing

Center of balance runs through the hand for instinctive alignment

Compact design is easily lashed to a pack

S capture shape limits deep penetration into cactus and brush

Standard model is presently right handed. For left handed throwers, please see our Karli Model
---
Description
---
We have been extremely honored to work with Matt Graham in bringing this exciting design into our lineup. Matt is a skilled primitive hunter who has decades of experience making and hunting with bow, atlatl and boomerangs. The Sidewinder Scout is based in an ancient South Western steam bent design known by archaeologists as "fending sticks" which boasts extreme stability and practicality in a survival situation. Archaeologists speculate that not only was this primitive multi-tool originally used for hunting game, but also as a defensive hook for deflecting atlatl darts! Similar sticks appear to have been used in ancient Egypt as well. Our modern polycarbonate version features these same qualities and more. Like the venomous snake from which it derives its name, the Sidewinder Scout swiftly targets small game and delivers a powerful strike, yet it's accessible to the whole family, and is compact, versatile and easy to use. The S shaped design of the Sidewinder enhances durability in rocky and rough terrain by allowing the material to spring more when necessary, and shielding the center of balance from direct impact on sharp rocks. It also aids in obtaining higher probability skidding shots across the sand for low, "earth guided" strikes! This was a historical technique used also in Australia for low game. Because the center of balance runs through the hand and the center of mass is closer to the grip, the very instinctive feeling "extended grip" is the preferred technique for this stick. The throwing technique is thus more precise for targeting at closer ranges. The Scout's overall range and lift is controlled directly and instinctively through the spin alignment with the throw. A slightly nose down alignment can be used to hit the dirt early for a low skid into the target on the surface of the desert sands. This is excellent for small game hunting on clean, sandy surfaces, or keeping the stick in a smaller area. If the spin is aligned nose forward while thrown hard it will fly a long way to about 80 meters for straight shots. A nose up spin will allow for softer, more floaty flights at lower velocities. Technique can be thus adapted to environment and situation. The Sidewinder Scout is designed for stealthy hunting at short ranges out to about 50 meters and has a maximum range of about 80 meters average when desired.
---
Reviews
---
Thanks to Jeff Martin of Primitivelifeways for doing a fantastic review and demo of The Sidewinder Scout, as well as an in depth talk about the ancient history of SW American Fending Sticks.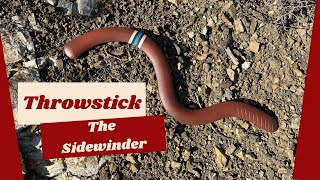 ---
---